Fighters are masters of arms and martial abilities, usually of great strength.
They are tough people, strong, but not necessarily crude. Some prefer the brute force and aggressiveness of the berserker, other prefer a classical way of fight, and others see fighting also as a form of art.
Class Overview #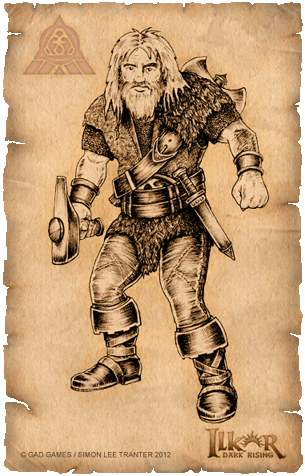 Fighters Prime Ability is Strength and starts with a +2 bonus.
Fighters Prime Skill Group is Physical and they receive +3 bonus.
Fighters receive a +1 to Melee & Missile Attack and +2 Damage bonuses.
Fighters can wear any kind of armor, use all shields and wield any weapon.
Fighters can not learn and cast spells.
Sub-classes #
Technically, sub-classes are not defined in-game. This however should not prevent you from designing and shaping your character into a sub-class type suitable for your class. Here's a few examples:
Barbarian
Knight
Ranger
Warlord
Warrior
Special Abilities #
Fighters do not start off with any special abilities but may obtain them later on in the game, although it is extremely rare.
Levels, XP & Titles #
The table shows the XP required to reach a specific level. In doing so your character will 'level up' and be awarded a new title.
| LEVEL | XP | FIGHTER |
| --- | --- | --- |
| 1 | 0 | Veteran |
| 2 | 1,000 | Warrior |
| 3 | 3,000 | Swordsman |
| 4 | 6,000 | Hero |
| 5 | 10,000 | Swashbuckler |
| 6 | 15,000 | Myrmidon |
| 7 | 21,000 | Champion |
| 8 | 28,000 | Superhero |
| 9 | 36,000 | Gladiator |
| 10 | 45,000 | Lord |
| 11 | 55,000 | High Lord |
| 12 | 66,000 | Grand Lord |
| 13 | 78,000 | OverLord |
| 14 | 91,000 | Warlord |
| 15 | 105,000 | WarDare |