Ilkor is rising
Darkness is returning…it is felt throughout the lands.
Fear, suspicion and misgivings plague many regions of Arcadia as the shadows grow ever longer.
Ilkor, The Goddess of Darkness, is plotting her revenge from the bowels of the Underworld where ages gone she was once banished.
It is a time of uncertainty, a time for the brave & fearless to make their mark, take a position & carve their name into the tomes of history forever.
Your character starts with some gold coins and the clothes on their back.
The rest is up to you.
The game has been designed to cater for many thousands of players immersing themselves in a rich persistent world.  The fantasy world of Arcadia is huge, spanning 5 massive continents rich in detail and diverse in nature and wonder.
Players control a single character they create at the start.  The game is run by the GameMaster.  Players write down their orders on a 'turnsheet' which is then submitted to the GameMaster.  The GM processes the turn and constructs the results in narrative form and sends it back.  This cycle repeats for as long as the player wants to play, which can be many years.  Over the years the PC advances in skill, power and fame.
This website is central to the game, providing both the rules & world setting as well as rumours, news & gossip from players and the GM alike, list of all known adventurers and access to any guilds, societies and factions you may be a member of.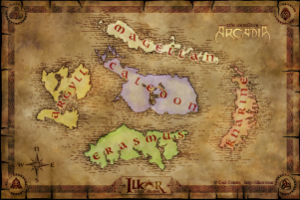 The known world of Arcadia is divided into five principle regions (continents). At its center is the blue region of Caledon. To the west of Caledon lies two very large land masses, the yellow region of North and South Argyll. To the north of Caledon lies the white region of Magellan. The red region of Kharine lies to the east of Caledon. Finally, the green region of Erasums lies to the south.
At the heart of the world is the more civilized blue region of Caledon, and its magical island of Annwynia, the "Home of the Gods." Large populations of humans, elves, dwarves and halflings call Caledon their home, and the region has long flourished and prospered. All players begin their adventuring careers within the relatively safe region of Caledon.
This region of over 70,000 hex locations is open and accepting new brave adventurers.